Wil je liever de Nederlandse review lezen? Klik dan hier.
What is Aphelion?
Aphelion is a P2P trading platform (DEX), built on the NEO blockchain. Aphelion offers users a wallet-based peer-to-peer trading experience. With Aphelion, users can trade cryptocurrency in a fully decentralized and trusted environment. The decentralized application of Aphelion, called Distributed Exchange Asset Ledger (D.E.A.L.), eliminates any third party or central authority. Aphelion puts an end to high costs, delays, frozen assets, blocked transactions and hijacked tokens. All transactions initiated by Aphelion are executed directly on-chain or cross-chain and directly between users, with conditions that they have set. As a bonus, the APH tokens that are used during P2P trading are automatically redistributed to all APH token holders; similar to NEO / GAS. Aphelion is not a hosted exchange. It never keeps tokens, does not store them and is completely open source, community driven and decentralized. Aphelion has chosen NEO, besides other reasons, because they can build on NEO with 'existing' programming languages, such as: .Net, Java Python and Go. NEO also has a superior consensus algorithm called delgated Byzantine Fault Tolerance (dBFT). dBFT is many times more efficient than PoS or PoW and therefore much faster. NEO currently has a scalability up to 10,000 transactions per second. This will increase further in the future due to the upgrade to NEO 3.0, which has been announced some time ago. The vision of NEO, creating a 'New Smart Economy', is therefore entirely in line with Aphelion's vision.
Why Aphelion?
Aphelion is a wallet with a built-in DEX, has a special fee structure and redistributes 80% of all fees to APH token holders. Aphelion holders can claim these trading fees by committing their Aphelion tokens in the Aphelion wallet. The remaining 20% ​​is used for maintenance and further development costs. Once you have committed your Aphelion tokens, you are entitled to a proportional percentage of the distributed transaction fees. You will receive your percentage over the period that you have committed your tokens. The more tokens you have, the bigger your reward will be. This means that you actually generate passive income when you are a loyal holder.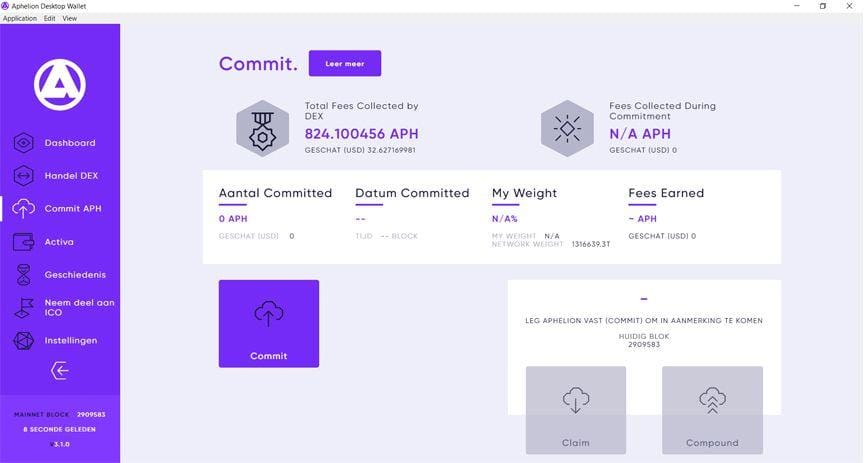 The fees of Aphelion are also much lower than on other exchanges. To complete the transactions on the DEX, only a very small fee will be charged in APH. Actually, in some cases there will be no charge at all. For buying Aphelion (APH) there will be no fee charged and no fee is charged if you place a Maker Order on the DEX. This also makes it a lot more attractive to trade via this DEX. Another benefit of the DEX is that it was not set up with profits in mind;
"We are not aiming to build a for-profit exchange entity, we are building an exchange engine by people and people".
The mission of Aphelion is therefore: to develop collaborative, open source blockchain technology that truly decentralizes the distribution of all crypto coins. Decentralized means that only you have access to your tokens and this ensures you that you do not have to worry about losing the tokens when sending from or to an exchange. Or that they will be stolen because an exchange is hacked, goes bankrupt or that for some reason you no longer have access to your tokens.
Wallet / DEX
The Aphelion wallet / DEX is available in a desktop version for Windows, Mac and Linux. It's a very nice and functional wallet / DEX with a fresh and clear UI. In addition, there is also a mobile version of the Aphelion wallet / DEX available for Android and iOS, which makes this DEX even more accessible. You can trade via your mobile and access your wallet and coins. The mobile application works very well and looks slick. In addition to the desktop and mobile version, Aphelion also has a webbased version of their wallet.
The wallet / DEX is available in 7 languages, including Dutch, English, German, Russian, Chinese, Korean and Japanese. More languages ​​will be added in the future. The Aphelion wallet offers the possibility to manage your coins quickly and easily. It's possible to set a fee for sending your coins. This has the advantage that your transaction gets a higher priority and is processed faster. Another option is
the split GAS function
. This ensures that the DEX is always fast, even if there is an attack on the NEO blockchain. A big plus is that you can also use the wallet in combination with your Ledger. What Aphelion also integrated, among other things, is an ICO function. This makes it possible to safely participate in an ICO of a project on the NEO blockchain. For the time being it's only possible to store NEO / GAS and all NEP-5 tokens in the Aphelion wallet. It isn't necessary to add a hash script of a coin. The wallet automatically recognizes a new coin that's being added. The DEX is very well organized. In the middle of the screen is an extensive chart with many options. The rest, such as the order book, trade history, markets etc. are built around this chart. The DEX currently offers the possibility to place a limit or a market order. What is also very nice, is that the DEX has a Day & Night mode.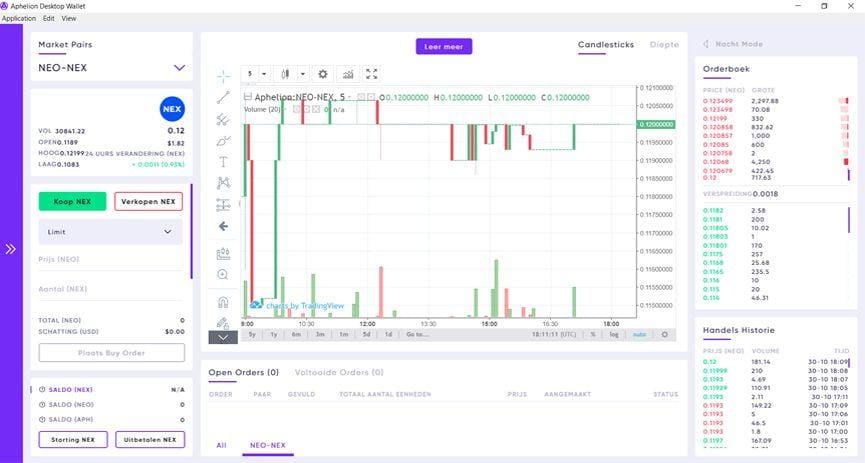 There are 3 markets, NEO / GAS / APH, with different NEP-5 pairs, where you can trade the following coins; NEX, DBC, TOLL, ASA, NKN, PHX, SOUL, EFX, CPX, TKY etc. The aim is to list almost all NEP-5 tokens on the DEX including a stable coin. They are now orientating which coin is the best to list. The DEX itself has only been live for a few weeks. In the coming period, more and more tokens will be listed. The next milestone of Aphelion that is being worked on is the implementation of crosschain with ETH and erc-20 (perhaps also BTC) tokens. This will probably be launched in Q1-Q2 2019. It will be possible to store and trade the tokens of these blockchains via the Aphelion DEX. Once crosschain to other blockchains has been launched, adoption will be increased. Aphelion also has the potential to conquer a prominent place in the crypto market.
The team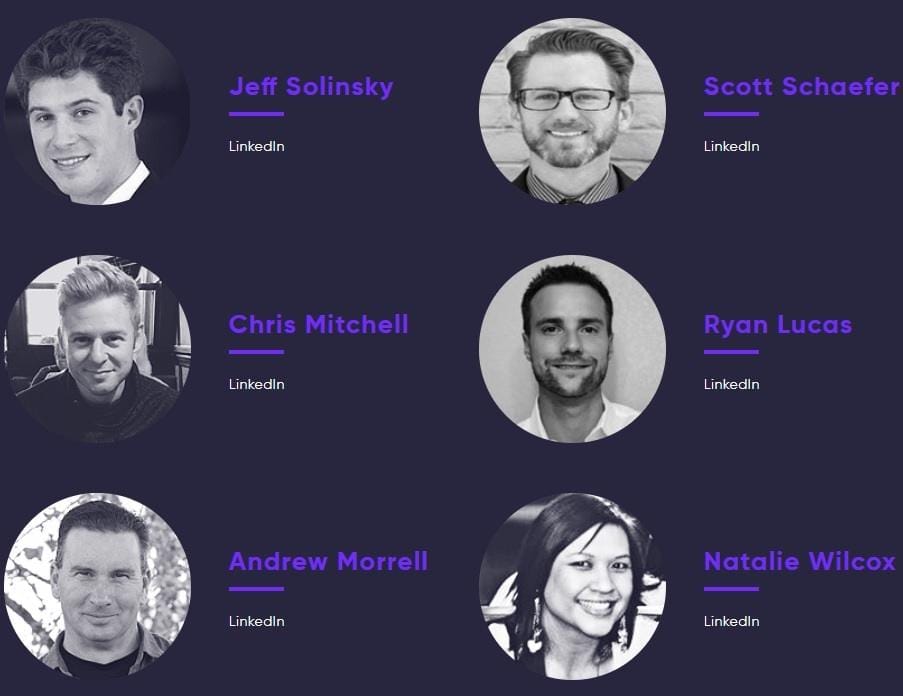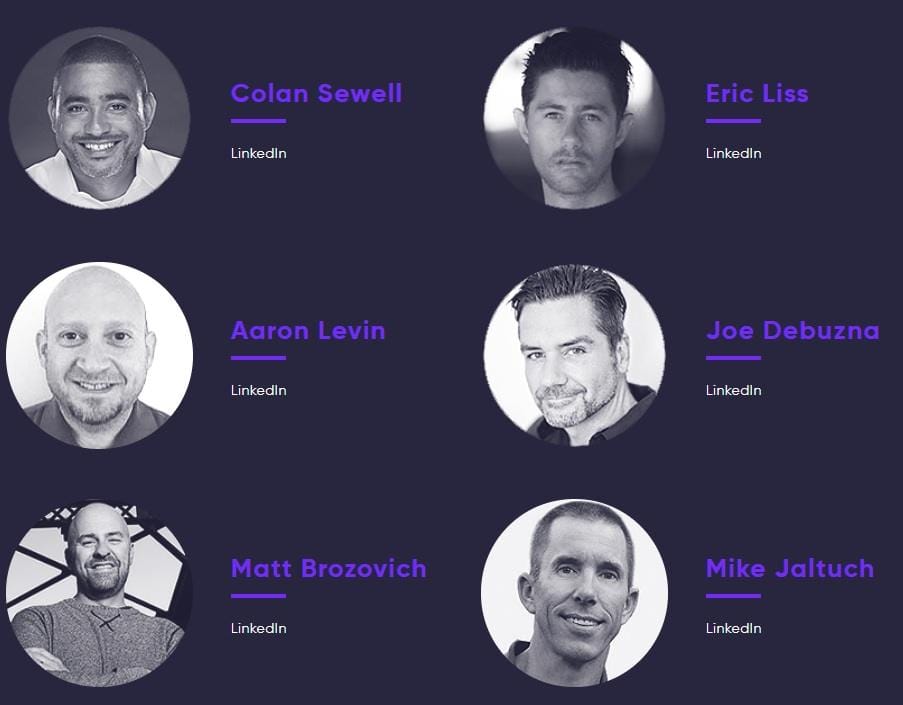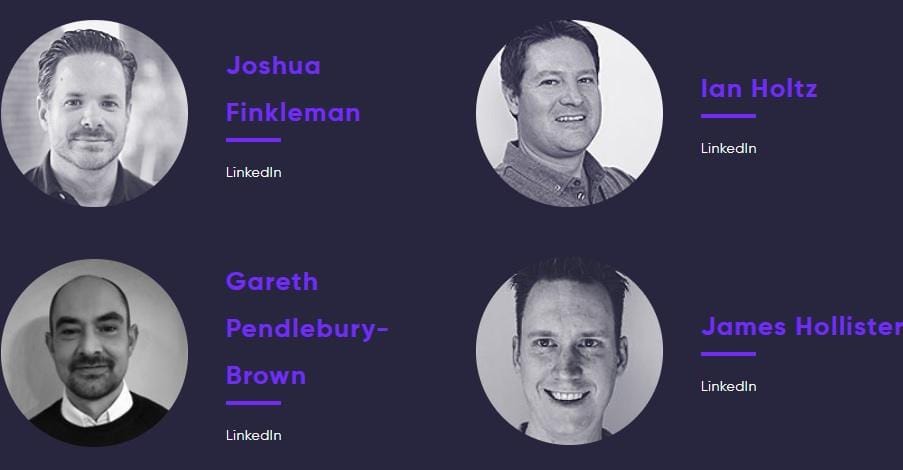 Aphelion has a strong team with a lot of experience. Jeff Solinsky, the lead developer of Aphelion, works as a developer for NEO and has already developed several fixes for NEO. In addition, there are many experienced developers in the team. It is clear that the focus of Aphelion is on development and that's also reflected in what they have yielded so far.
APH function:
When you use the Aphelion DEX, a small fee is requested in APH for each transaction. But no fee is charged when buying Aphelion (APH) or placing a Maker Order. In addition, if you are a holder of APH, you are entitled to a proportional percentage of the divided earned by the transaction fees. Aphelion distributes 80% of all transaction fees to holders of APH tokens. The more tokens you have, the bigger your earnings will be. This means that you actually generate passive income when you are a loyal holder of the project.
Aphelion token info
Name:
Aphelion
Ticker:
APH
Token Type:
NEO
Total Supply:
70,000,000
Circulating Supply:
50,000,000
Current price:
$ 0.056
Current market cap:
$ 2,800,000
Where to buy:
Kucoin, Switcheo and on your own DEX from Aphelion
Website:
https://aphelion.org/
Positive / negative points
Positive points:
Open source and decentralized: The big advantage of Aphelion over most existing exchanges is that it is open source and fully decentralized. This ensures transparency, trust and safer storage of tokens.
80% of the fees are redistributed over APH token holders. This means that you can generate a passive income by holding tokens.
The low fees that are charged on this DEX and that no fees are charged for maker order.
In addition, Aphelion has a strong team with highly skilled developers.
Low price: The price of Aphelion is now very low and this offers a very nice moment of entry and a lot of perspective for the people who want to buy APH.
Negative points:
A lot of competition: There are already many established names, such as: Binance, Kucoin, Bitfinex, etc. These exchanges do not stand still. It's a challenge for Aphelion to work their way up.
Recommendation
We see Aphelion as a project with a lot of potential. However, the question is whether they can stand out among the competition. Because 80% of the fees are being returned to their holders and the low costs, users are more tempted to use Aphelion. The interface works very smooth and we are curious to see how long it takes, before Aphelion will be used more. At present, their offer isn't various enough for mass-adoption, but this can all change when they implement crosschain trading. The APH tokens are still cheap and the market cap is still very low. If you decide to buy APH tokens, we think that you will have a lot of perspective for the future.
Ben je benieuwd naar het laatste crypto nieuws uit de Benelux? Klik dan hier! Je kunt ons ook volgen op telegram
Aphelion Desktop Wallet –
https://github.com/aphtoken/aph-wallet-gui/releases/
Aphelion Android Mobile Wallet –
https://play.google.com/store/apps/details?id=com.aphelion.wallet
Aphelion iOS Mobile Wallet –
https://itunes.apple.com/us/app/aphelion-mobile-wallet/id1418366948?mt=8
Aphelion Mobile Web Wallet –
https://mobilewallet.aphelion.org/#/login/landing
? Aphelion TG Nederlands:
https://t.me/AphelionTokenDutch
? Official website:
www.aphelion.org/nl/
? Whitepaper Nederlands:
www.aphelion.org/website/aphelion/upload/custom/files/aphelion-dutch-whitepaper.pdf
? Latest Aphelion news:
www.aphelion.org/blog.html
? Aphelion TG:
https://t.me/apheliontoken
? Aphelion Reddit:
www.reddit.com/r/APH/
? Aphelion Facebook:
www.facebook.com/apheliontoken
? Aphelion Twitter:
www.twitter.com/apheliontoken
? Aphelion Medium:
https://medium.com/@ianholtz
? Aphelion Linkedin:
www.linkedin.com/company/aphelioncoin/
? Aphelion Youtube:
www.youtube.com/channel/UC2mRNm5zGbV-ZmK0-NiQvgg/
Disclaimer: This is a review. Readers should conduct their own research before taking any action related to the promoted company or any of its listed companies or services. CryptoBenelux is not responsible, directly or indirectly, for any damage or loss caused by or in connection with the trust in goods, services or content mentioned in the press release.
Ben je benieuwd naar het laatste crypto nieuws uit de Benelux? Klik dan hier! Je kunt ons ook volgen op Telegram.