In April 2017, the cryptocurrency coin Bitcore (BTX) was launched by the Bitsend developers. Bitcore is a hybrid fork from Bitcoin. Although hard forks are known, most have only heard of the following hard forks: Bitcoin Cash and Bitcoin Gold. Bitcore uses Bitcoin's technology and source code and has built a new blockchain. The new blockchain ensures that the blockchain size is smaller and the scalability is better. There is no history on the blockchain like any other BTC fork. In addition, block times are faster than those of Bitcoin and Bitcore currently has a blockchain of about 1 GB. This is huge compared to other forks that have 120+ GB. Bitcore is a pure payment system. Like Bitcoin, this project does not provide any additional ideological or functional offer on the market. The coin is actually similar to BTC, but it has a number of special features designed to improve Bitcoin operation. The cryptocurrency has a unique Diff64_15 complexity algorithm and offers available and decentralized mining on graphics cards (GPU mining). The total supply of BTX, as well as Bitcoin, is 21 million BTX coins.
Features of Bitcore 
Bitcore brought some improvements and better-adapted functions for scaling transactions within the blockchains. The features include: 1. Bitcore has successfully integrated SegWit and Bloom. 2. Larger block size (10 MB + 10 MB SegWit). 3. Fast average block time of 2.5 minutes. 4. Bitcore uses InstantX for lightning fast transactions. 5. Bitcore has been launched without an ICO.
Transaction Speed
The transaction speed that Bitcore provides is much faster than Bitcoin and major altcoins. More surprisingly, the transaction speed offered by Bitcore is even faster than Paypal. In addition to this, the block times on the BTX-network are also quartered as compared to bitcoin. This leads to faster confirmation of transactions on the network.
In 2016 Visa processes an average of 150 million transactions each day, or around 1,667 transactions per second on average. Visa states it can handle 24,000 tps.
Bitcore BTX can handle up to 550 tps with Segwit (250 tps average value; 50 tps on worst case).
PayPal can handle around 193 transactions per second.
Bitcoin Cash can handle 61 tps.
Litecoin can handle 56 tps with Segwit.
DASH can handle 28 tps.
Ethereum can handle 25 tps.
Bitcoin can handle 11 tps with Segwit.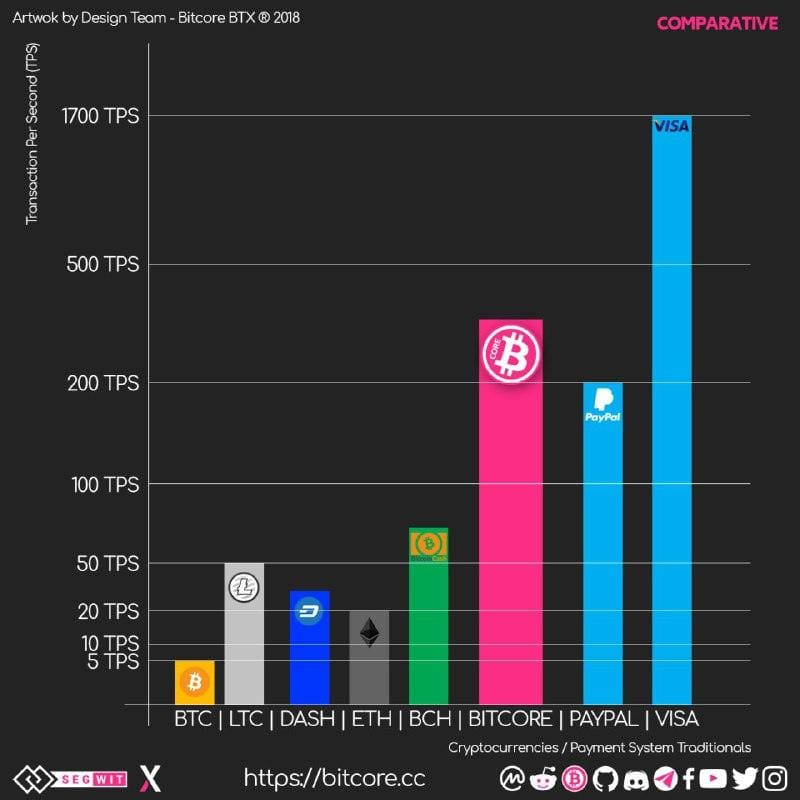 Comparison table
Bitcore uses a proof of work ASIC-resistant algorithm for mining, called "TimeTravel10", which is easily debugged by graphic cards. In addition, the block time of BTX is only two minutes while that of Bitcoin is for example ten minutes. The most extreme blocksize is 10MB and that of Bitcoin is 1MB while the price is about $ 20 USD. This makes BTX more productive and cheaper than Bitcoin.
Low Fees
With an average fee of $0.0003 USD per kilobyte and a median fee of $0.0002 USD per kilobyte, Bitcore's fees are markedly lower than the fees of other major cryptocurrencies. As 1 kilobyte is roughly equivalent to 3 transactions, this corresponds to a fee of about $0.0001 USD or 0.01 US-Cent per transaction. This favorable fee structure further contributes to Bitcore's suitability for everyday transactions and even micropayments.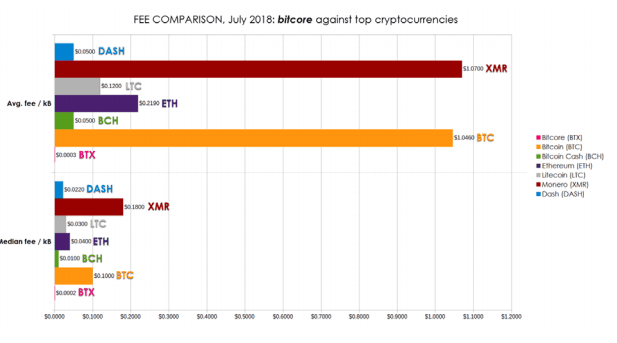 Bitcore BTX and Paytomat
Bitcore is currently supported by Paytomat. The company is active in six European countries (the Netherlands, Bulgaria, Ukraine, Georgia, the Czech Republic, Poland). This allows more than 329 retailers to accept Bitcore. The idea behind Paytomat is to increase the transaction use of cryptocurrencies in daily life and thus encourage companies, customers and crypto-core teams to use them. The release of BTX in Europe is easier thanks to Paytomat.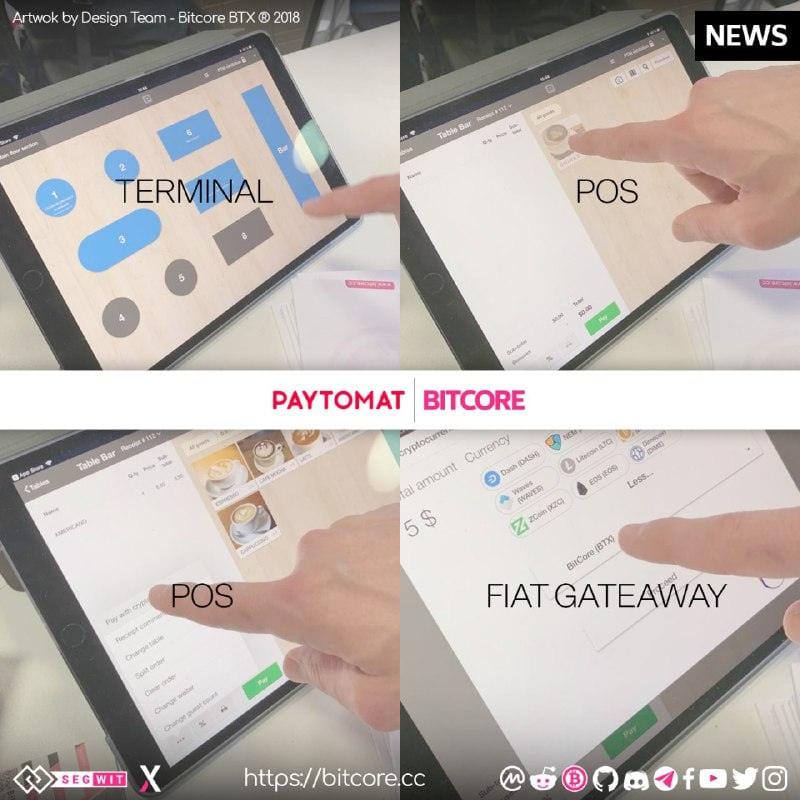 Roadmap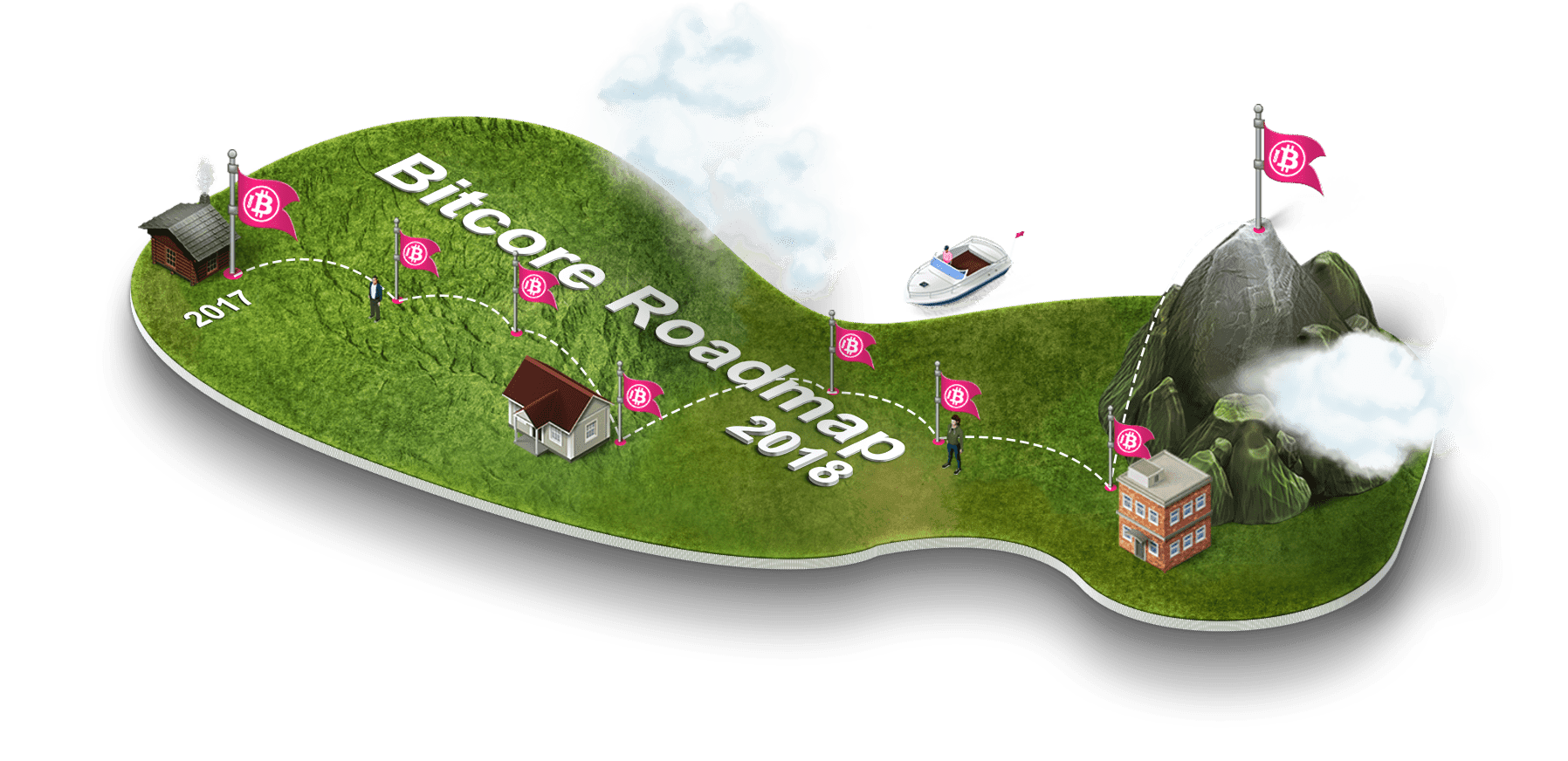 When we look at the roadmap, we see that Bitcore exists for a little more than a year at the time of writing. To date, they are lagging behind at some points in the roadmap. However, the targets are known until the end of 2018 and unfortunately we can not find what the plans are for 2019.
Partnerships
Jaxx Liberty builds on the success of Jaxx, one of the leading companies in the Cryptocurrency sector with over 5 years of experience, one of the most popular blockchain and cryptocurrency portfolios used by millions. We are proud to announce this new collaboration in which Bitcore is included in Jaxx Liberty.
Games4coins is a platform where you can purchase Steam product keys. Buying a game on Games4Coins is very easy. Once you have chosen a game, you can pay quickly and safely. Moreover, they accept Bitcore as the only crypto.
Zelcore is a multi-asset wallet for securely storing cryptocurrency funds. With support for 50+ coins including Bitcore (BTX) Zelcash (ZEL), Bitcoin (BTC), Litecoin (LTC), Ethereum (ETH), Zcash (ZEC), Tether (USDT) and many more.
Instaswap is a Cryptocurrency Exchange Platform that allows you to Exchange Digital Assets Instantly. Protected & No Account Needed. Simple. Fast. Secure.
Bitsend is digital cash you can spend anywhere. Use bitsend to make payments online or in-store.
Easyrabbit is a cryptocurrency exchange platform where everyone can exchange their coins between a variety of cryptocoins and tokens.

Bitcore Coin info
Name: Bitcore Ticker: BTX Total Supply: 17,263,275 Circulating Supply: 16,503,048 Current price: $ 0.45 Current market cap: $ $
7.452.870
Where to buy: Bit-Z | Cryptopia | HitBTC | Ve Bitcoin | Exrates | Crypto Bridge | QBTC | CoinExchange | PayCml | BitExLive | Bitibu | Trade Satoshi | Crypto Change | Crex24 | BitsTen | Indacoin | Barterdex | EasyRabBit | InstaSwap | ExCoinCial | KTrade | Nova Exchange Website: www.bitcore.cc
Positive / negative points
Positive points:
• Hybrid Fork: The major advantage of Bitcore over other forks is that there is no history on the blockchain. • Fast transaction speed • Low transaction costs of $0.003 USD per transaction • BTX has a narrow blockchain of approx. 1 GB at the moment. This is huge compared to other forks that have 120+ GB.
Negative points:
• Short roadmap: If we now look at the roadmap, we see that it has been worked out until the end of 2018. This worries me, as soon as you invest in a coin you want to see the long-term goals of the company.
BITCORE BTX and Dash Embassy DA-CH participated in the
5th Geno hackathon
that took place in the Microsoft office in Cologne, organized by the DZ BANK GROUP (the second largest banking group in Germany) Feducia GAD and ADG. During this hackathon they participated under the name: GENO-Krypto-Applications. The team of GENO-Krypto-Applications finally convinced the jury and they proved in the workshop that they were rightly the winner of the GENO hackathon. Three of the last 12 projects were selected as winners such as our team.
If you want to see an extended Bitcore presentation, check out the video below!
Social media channels:
Bitcore Neuws
Bitcore Telegram
Bitcore Reddit
Bitcore Facebook
Bitcore Twitter
Bitcore Youtube
Disclaimer: Dit is een review. Lezers moeten hun eigen onderzoek doen, voordat ze acties ondernemen met betrekking tot het gepromote bedrijf of een van zijn genoemde ondernemingen of services. CryptoBenelux is niet verantwoordelijk, direct of indirect, voor enige schade of verlies dat veroorzaakt is door of in verband met het vertrouwen in goederen, diensten of inhoud die genoemd zijn in het persbericht.
Ben je benieuwd naar het laatste crypto nieuws uit de Benelux? Klik dan hier! Je kunt ons ook volgen op Telegram.